S
ervices at St Michael and All Angels
Sunday 19 August, Octave of the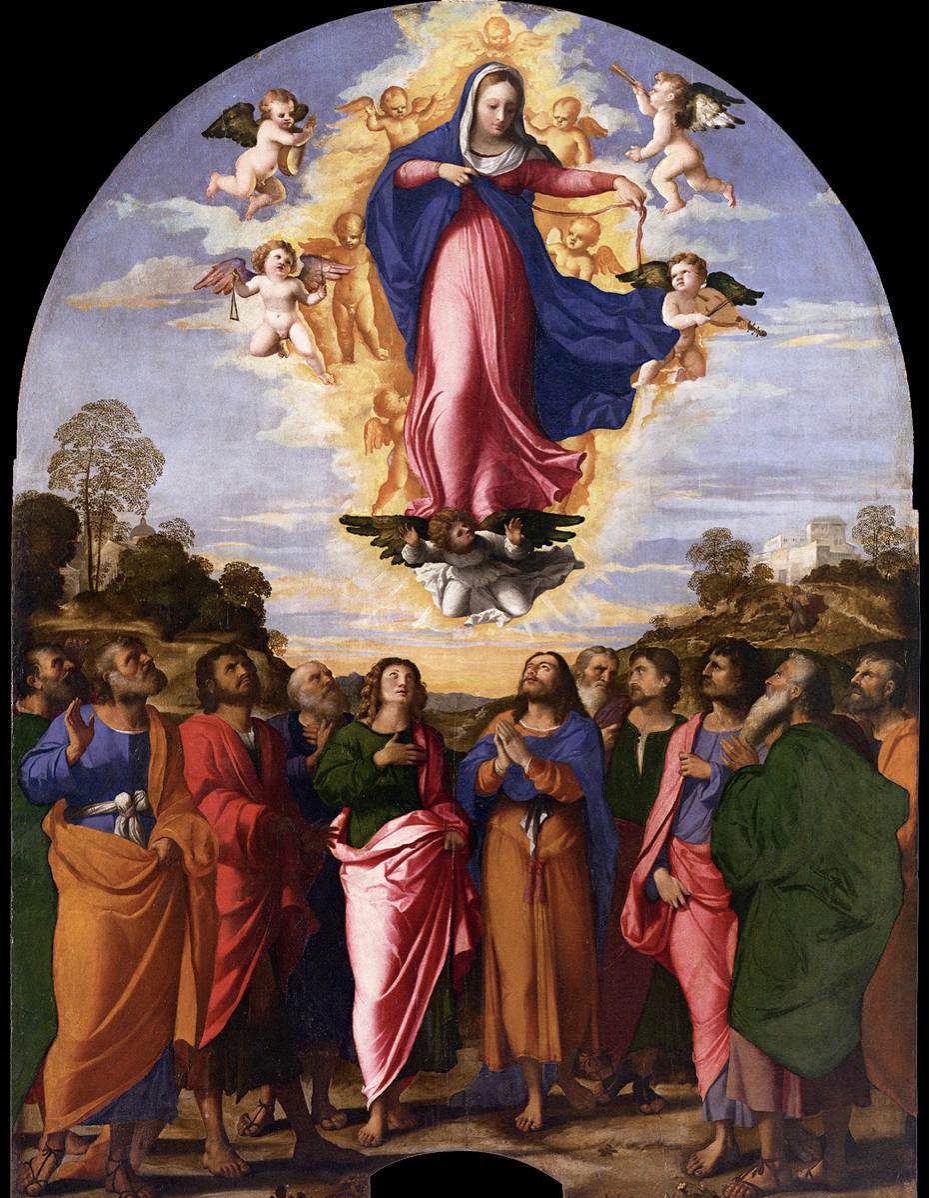 Assumption of Our Lady
Colour: White
Intent: Self-dedication
Sunday 23 September, 17th Sunday after Trinity
Colour: Green
Intent: Spiritual Progress
Note that Bishop Richard will be travelling
Overseas in August and September
Sundays with no Eucharist service
at St Michael's:
(Services are held at St Alban's,
351 Wickham Tce, Brisbane)


Assumption of Mary - Vecchio
Sunday 26 August, 13th Sunday after Trinity
Colour: Green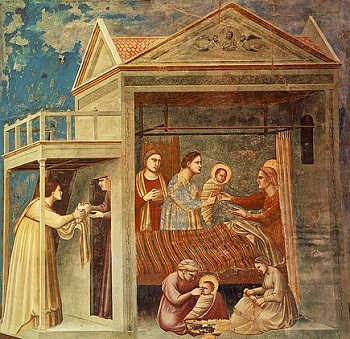 Intent: Good Works
Sunday 2 September, 14th Sunday after Trinity
Colour: Green
Intent: Renewal of Heart
Sunday 9 September, Octave of the
Nativity of Our Lady
Colour: White
Intent: Reality of Things Eternal
Sunday 16 September, 16th Sunday after Trinity
Colour: White
Intent: Reality of Things Eternal
Nativity of Our Lady - Giotto Scrovegni Chapel ca. 1305
Beginning in October, services will be held weekly at St Michael's.
Holy Wisdom linked to Wisdom and Method
During the next period of the Church year, we progress from the 10th Sunday after Trinity (5 August) with the intent of "Devotion" through to the 17th Sunday after Trinity (23 September) with the intent of "Spiritual Progress". Within this span we include significant events in the spiritual journey of our Lady Mary: the Assumption, the Nativity and Sancta Sophia, also known as Holy Wisdom.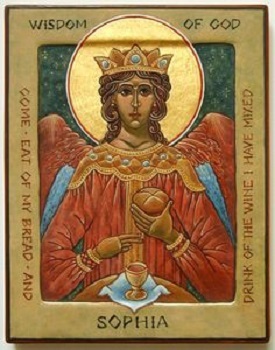 Holy Wisdom icon from Kiev
The 17th Sunday after Trinity also includes the Octave of St Michael who is the Patron Saint of our Church. As such we hold a special link with this Archangel who is venerated in Christianity, Judaism and Islam.
In our everyday world that we interact with, we place a particular emphasis or focus on being fully rational, based on "the data", only. In the light of the perspective given to us by Jesus to be "in the world but not of the world", how might we manage this modern imperative to be "fully data-based rational beings"?
For this journey we could start with two related present-day views of how our consciousness functions. The first concept we can consider is our mind/brain/consciousness continuum, the many parts of which function all the time in different ways. Our five senses simultaneously feed data into different parts of the brain which, combined with experience (memory), generate our world view. The huge variety of world views found in people investigated by neurologist researchers such as the late Dr Oliver Sacks ("Awakenings" and "The Man Who Mistook His Wife for a Hat") gives us a strong sense that "one size" definitely does NOT "fit all".
The second present-day concept to consider is how do we navigate from data to knowledge to wisdom, our "higher faculties"? And more recently, with the advent of robots and Artificial Intelligence, how do we navigate from wisdom to data, via ethics?
Most of us have a sense that the physical world, alone, will never supply satisfaction of a lasting, sustainable kind from its own side. We all deal with this dilemma in our own way. The mind is very powerful, and as a vehicle for the ego, the small self, the mind works to limit an individual to only serving the ego. The Real Self, which I will nominate in this narrative as a spiritual-based consciousness, is much larger and more powerful than the mind alone, but is not so easily apparent to us in the day-to-day. A certain region in the physical part of the brain can be understood to manifest the "ego function" and this takes charge of the mind/body complex. This ego function is typically full of fear, self-imposed limits, programming (habits) etc, and if this ego is the only focus, one is usually self-limiting in many ways, tending to link the illusion of physical consumption to happiness.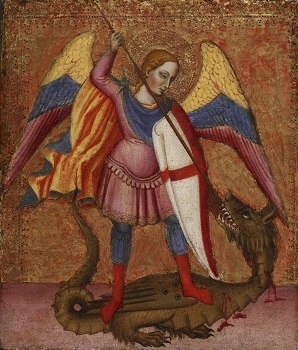 St Michael slaying the dragon – Master of St Verdiana ca. 1380
In the West, wresting control from this ego is the basis of our myths and legends, where killing the dragon (the greedy self, represented by the dragon which hoards things it cannot utilise such as enormous quantities of gold, the odd virgin, mountains of jewels) leads to a connection with the Real Self and an understanding of what we are meant to be doing with our lives. For Christianity this distils as serving others on a day-to-day basis, and this "purpose" is the foundation of sustainable human life on this planet.
It is necessary to escape the demands of our electronic screens on a regular basis and we need to let the stillness within to intercept the fast external world around us. People these days are missing the "now". Reconnection with the "now" is not to be confused with "killing the Dragon" of our small self, but it is a necessary step on that journey.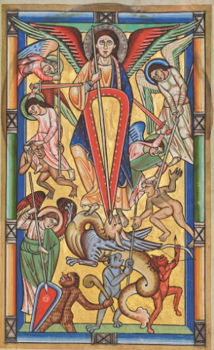 Unknown German ca. 1170

In 2010,
Marina Abramovic,
as the New York MoMA, "Artist in Residence", took up a commission to create a unique experience for art gallery attendees. The Artist would sit opposite someone while both stared into each other's eyes. This continued until there was a mutual "conclusion". Much to everyone's surprise, every day of the "performance" there were very long queues of people wanting to have the experience of a deep connection with another person. This was living-in-the-now, and this unique experience for those who participated would have opened a new and vitally alive world, perhaps previously unexplored in their busy lives.
Life is an experiment for us all and at any time we should be ready to explore and sometimes fail. Our Eucharist provides a reliable link to a wider world and has the function of connecting us to the experience of pure love. At the same time, as coworkers with the Creator, we serve our planet and all who live as part of it. In this way the Eucharist can be seen as Holy Wisdom linked to human wisdom and method.
With God's blessing